Buy Gold: Everything You Need to Know.
Storage in Zürich, Amsterdam & Frankfurt
Proven track record. An average annual return of +9.0% since 2001
We sell physical gold only. The gold is your legal possesion
100% allocated and insured
Start investing from

€50,-
Gold has been an asset class for centuries and its value has consistently increased over the years. Investing in physical gold could be a great way to diversify your portfolio and protect yourself against potential market downturns and inflation. 

When investing in physical gold, you can choose between gold coins and gold bars. Gold coins are typically more expensive than gold bars, but they are also easier to store and transport. Gold bars are typically cheaper than gold coins and are better suited for long-term investments. 

When buying physical gold, it is very important to choose a reliable dealer.  GoldRepublic was founded in 2010 and currently stores over €420 million in precious metals for its 45.000+ customers. We strive to make investing in precious metals accesible for everyone and offer the possibility to start investing from €50,- at low rates.
Gold is a reliable asset that is less vulnerable to fluctuations in the stock market. Historically, gold has held its value and has even appreciated in times of economic crisis. Additionally, gold is a tangible asset that can be easily stored and transported. 

Finally, it is important to diversify your investments to minimize risk. Investing in a variety of assets such as stocks, bonds, and gold can help you to maximize returns and reduce your overall risk. 

By understanding the basics of investing in physical gold and following the tips outlined above, you could maximize your returns and protect your investments. Invest in physical gold today and reap the rewards of a diversified portfolio!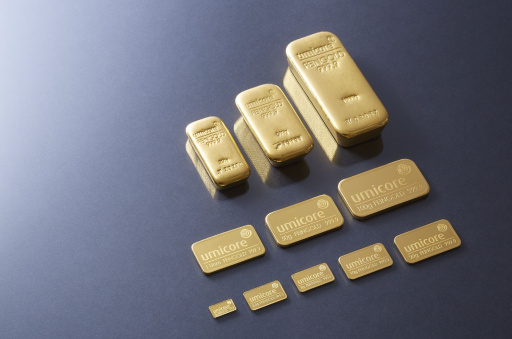 Why should you buy gold?
 Gold has been an integral part of investment portfolios for centuries, and it continues to be a popular asset today. Investing in gold can offer numerous benefits, including capital growth, portfolio diversification, and protection against inflation. 
Investing in gold can provide protection against inflation. When the value of currency decreases, the value of gold increases. As a result, gold can help to hedge your portfolio against inflation.
When investing in gold, it is important to diversify your portfolio. Gold should be a part of a diversified portfolio of stocks, bonds, and other assets. By diversifying your investments, you can minimize the risk associated with investing in gold or other assets.
Gold can also be used as an inheritance or legacy asset. It is easy to transfer ownership and the asset can be passed on to future generations. 
Finally, gold is scarce and limited in supply.
Companies and banks can go bankrupt. Governments can change their contractual obligations. But when you buy physical gold it's yours. You don't take on covering risks and don't depend on the performance of the issuing institution to guarantee the possession of your investment.
The usual statistics you might see would tell you that a gold account, a gold tracker or ETF which is following the gold price, are just as good as buying physical gold. None of these securities, however, will give you the same certainty as possessing your own, guaranteed, real-life gold.
Why is this? It's to do with how bankruptcy is handled by the financial system, often leaving creditors at the back of a long line of people and institutions waiting for their money to be repaid.
Gold is listed on the balance sheet of the bank or company that has issued the financial product and the product's structure is usually set up so that the issuer is entitled to lend out the gold to third parties or use it as collateral for other obligations. What's more, gold lent out by the issuer to a borrowing party is often not subject to mandatory insurance.
Credit and solvency risks that come from this (in other words, the risk that the bank or company's capital or guarantee capital is not enough to meet obligations in the event of a bankruptcy) are, in the end, held by the investor. That might mean you. In the event of bankruptcy, the owner of such a financial product (you) would not be able to demonstrate which specific gold is his or her property; the owner of the gold simply has to join the line of creditors that come forward during the bankruptcy. It could be a long wait.
That could never happen when you buy gold with GoldRepublic. When you buy physical gold with us, it's yours. No matter what happens to the company in the future, regardless of whatever troubles it may go through, your gold investment is always secure.
With GoldRepublic you can buy vaulted gold 24/7 from a convenient online account. When buying your gold you can choose to have your gold stored in independent, high security vaults in Amsterdam, Zurich and Frankfurt. GoldRepublic provides a full buy-back guarantee allowing you to easily sell your gold at any time. You can also have your gold delivered to you in convenient bar sizes starting from 1 gram. This way GoldRepublic offers you the ideal combination of the safety of physical gold ownership and the flexibility of online trading.
GoldRepublic makes it possible to own a fraction of a larger gold bar or whole gold bars. In this way you can buy gold affordably from quantities as small as 1 gram. You pay prices usually only seen in the professional precious metals trade. You can also reserve your own bars in the vault in the following volumes: 100 gram, 250 gram, 500 gram, 1 kg en 12.5 kg.
When you buy gold with GoldRepublic all the challenging physical aspects of owning physical gold are takan out of your hands. So you don't need to worry about transport, insurance, storage or safety. All GoldRepublic bullion is acquired from for example Valcambi and Umicore both formally recognized LBMA-accredited bullion market refiners. In order to guarantee the quality of the bullion we offer, we only sell newly cast gold bars.
Click here for more information about risks of investing in precious metals at GoldRepublic.