GoldRepublic visits production facility Valcambi in Switzerland
December 11 2019
On Thursday, November 28, Nick Finson and Bart Brands visited Valcambi in Switzerland on behalf of GoldRepublic. Valcambi is located in Balerna, just across the border with Italy, in a quite normal looking industrial site. That Valcambi produces many thousands of kilos of gold, silver, platinum and palladium produced from would not be apparent looking at it from the outside. Upon entering the subtle but strict security hints at importance, but it is little different than when you enter an average government building.
Of course, this changed when Nick and Bart entered the production facility. Not too much can be said about the measures. We did, however, talk about the guided tour that showed us which processes were followed to arrive from raw materials to glittering pure gold of silver. It is and remains fascinating to see how gold is produced and what steps are needed to move from raw material to pure gold bar. Some of the steps given include:
Separating the gold from all residual products
Refining the gold up to 99.99%
Weighing up to the gram
The melting of the gold and machine pouring of the glowing molten gold in a mould that is then slowly cooled down.
The fact that all these steps must then take place under extremely strict rules makes the task even more difficult and that the result is even more impressive.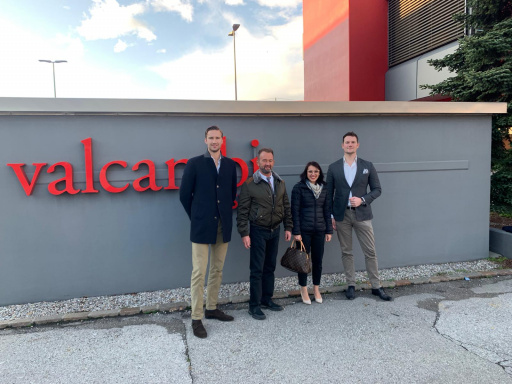 Valcambi produces gold bars itself, knowing that gold is very valuable and there are always people who will make attempts to produce fraudulent bars. That is why Valcambi is not only specialized in producing safely but also securing and marking each individual bar. Each kilobar is provided with a kind of "fingerprint" that is stored and makes it possible to check whether you are dealing with a bar that has actually been produced by Valcambi. It is absolutely important for GoldRepublic to be able to rely on production standards and to limit the risks of fraud, and that importance for Valcambi is, of course, a reason to always be on the lookout for innovative ways to control and trace gold produced by Valcambi.
As our account holders know, GoldRepublic only works with companies that are LBMA certified. This certification guarantees that gold does not come from conflict zones and that when mining precious metal, standards are applied with regard to environmental impact and human rights. In addition to its LBMA quality certification, Valcambi has also opted for a fully controlled production line in which gold is checked from the mine to the bar. This gold can, therefore, be traced completely to a specific mine and can, therefore, use the "green" gold quality mark. An innovation that could be an option for involved investors who want to add gold to a portfolio.
GoldRepublic's visit to Valcambi also took place to perpetuate the long-term relationship between the two parties. 2019 was a volatile year for the precious metal market as a whole with sharp price rises. During the nine-year anniversary of GoldRepublic, Valcambi has always been a valued partner and it will remain so in the future.